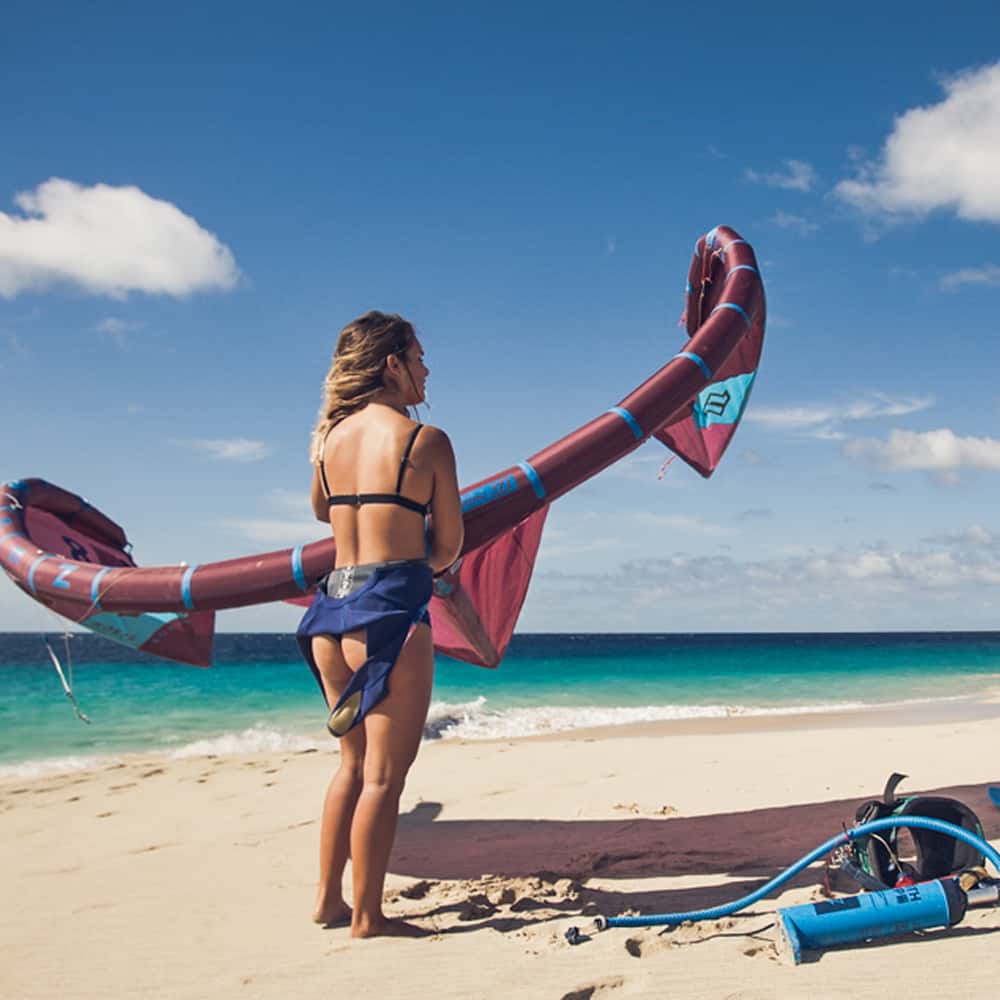 ---
A Hebridean Adventure
With the festive season all but a distant memory and the winter slowly drawing to a close, you may be pondering a far flung kite / windsurf holiday destination to shake off your winter blues. A destination not unlike the one in the photo below, with blue skies, crystal clear turquoise water and white sandy beaches. Well look again and consider the fact that the destination in the photo is actually one of the amazing kite /windsurf locations in a group of inlands called the inner and outer Hebrides, located just off the west coast of Scotland. Yes you read it right Scotland, as these islands sit just off the golf stream, they tend to bring in nice weather and are only a couple of degrees cooler than the south, both air and water temperature, in the summer months you can happily kite in a three quarter length wetsuit.
This is a short tail of our kite surf adventure on some of these islands in August 2016, our itinerary was as follows: Load van, and drive from Poole to Glenelg, Glenelg to Skye (on the only turn table in the world), Skye to North Uist, North Uist to South Uist, South Uist to Barra, and Barra to Tiree.
The journey from Poole to Glenelg took approximately 9 hours and we decided to do this late afternoon and evening, we did stop to sleep in a travel lodge at the bottom of Loch Lomond. From there we headed to Skye via the Glenelg turntable ferry, the chaps that worked on this ferry were very friendly, and happily posed for the photo below!
Our first day of kiting was in the North of the island near Solas, a shallow flat water lagoon where we had to wait for the tide to come in. It was a gusty ish 7m day as it was blowing cross off, but a good day to test the water and wind. This spot could have worked in most wind directions apart from bang southerly. Just over the dunes from the bay we were kiting in, was a fantastic wave beach although a little bit of a walk to get to it. We spent two days camping and walking on Skye as this was always a place we wanted to visit, unfortunately the weather was not the best, and there was no places to kite where we were. Our ferry from Uig to Loch Maddy, North Uist was very comfortable, and we knew that that the weather on North Uist was already much better than it was on Skye. As soon as we landed on North Uist, we took to the roads and quickly realised that the island is considerably larger than we first thought. We quickly scoped out the kite beaches, supermarkets, pubs and our accommodation. We had luckily found a fantastic little place called the Tractor Shed owned by Duncan. Consisted of a very simply bunk house with shared kitchen and 6 grass roofed camping pods each equipped with its own little peat burner. We had only booked to stay two days here, but decided to say longer. You could literally stay here and walk to one of the bays to kite.
All along the top end of North Uist there are so many bays to check out, we ran out of time that day. On Day 2, we went up to Berneray, it was a lovely day with the sun shining and strong wind on the drive there we found so many bays of crystal blue water, you know the type you find in the Caribbean islands. We found a great kite spot near on the East of Berneray near the youth hostel, although on the west side there was again a fantastic wave beach which produced some very nice medium sized swell with the right conditions this could be huge.
Day 3, we decided as the wind had dropped to take a bit of time to explore Benbecula and South Uist and we found plenty of beaches on the west coast all the way down the whole of the islands. All of these beaches are amazing locations for kite surfing and windsurfing, some open water wave spots and some sheltered bays perfect for flat water antics. It's advisable to get an OS map of the area to get a real feel for where you are going and where you can kite. There is literally no one at every beach that we found, apart from the odd dog walker and on only one rare occasion a lone kite surfer, you are pretty much guaranteed to have the spot to yourself, but with this you need to have a good level of competency.
Day 4, we unfortunately had a ferry to catch from Erskay to Barra, so we were sorry to leave North Uist as we felt very much at home here. It took approximately 2 hours to get from North Uist to Erskay (the very bottom of South Uist), the ferry was very small although there was lots of marine life to see on the way. Upon arriving in Barra the weather and tides were not on our side, we could see the potential in this location although were not able to test. The main kite beaches, are at the top of the island, the largest is the airfield although is restricted due to aircraft landing at low tide. There is a fantastic wave spot over the dunes from the airport, and is very popular for surfers. The other possibilities for kite / windsurfing are the southern end of the island in Vatersay where there are two beaches opposite each other, east would be fairly sheltered and the west would be a good wave spot. Barra is quite a small island, however there is quite a lot of tourists, and with this there are lots of pubs, shops and restaurants to choose from.
Our final destination was an island that we are very fond of and have visited a number of times before, Tiree. Tiree statistically is the sunniest and windiest place in the UK, therefore great for kite / wind surfing and every year they hold the Wave classic wind surf competition. Our journey from Barra to Tiree was a bit of a mission, as we had to go to Oban before Tiree to meet our friends who joined us for the remainder of the holiday. If you time the ferries right, there is a direct ferry from Barra to Tiree on a Wednesday. Despite the long ferry journeys, we had time to spot Dolphins, seals and Basking sharks, the sharks were particularly close to Gott Bay, Tiree, and a few days later we were also kite surfing with them (Bit surreal!!) Tiree has lots to offer, with approximately 11 large beaches to kite from ranging from big wave beaches to open bays with flattish water. Gott Bay and Crossapol are great for beginners, the Maze is the best for big waves with the right conditions and Balevullin beach is the best for surfing / SUP surfing. You can hire any kit or get lessons from either Will at Wild Diamond or Marti at Blackhouse water sports, both very friendly and helpful. Accommodation wise, we always hire a small cottage (Fuaim Na Mara) and this is approximately £400 per week for 4 people (season dependant). This lovely little cottage is nestled near a little bay half way between Crossapol and Scarnish, the bay has been known to have sea otters playing and if you are lucky you can see Basking Sharks from Crossapol beach, 5 minutes walk away. There are two hotels and one campsite on the island which are very nice, Wild Diamond runs the campsite. Tiree never fails to deliver, we only had one day of marginal wind, despite the wind there is plenty of other things to do on the island and you will never get bored.
At the end of the week, we caught the ferry back to Oban to start the sad journey home however the good thing about Tiree is Oban is only 9 hours from Poole, so we will be back. On reflection, we would definitely go back to North Uist to explore a bit more, but stay there for longer. We may even see what is on offer on Lewis and Harris.
Many thanks to... Darryl And Claire
North Kite boarding UK and H20 for some awesome kite kit.
Duncan at the Tractor shed
Donnie and Janice at Fuaim Na Mara, Tiree