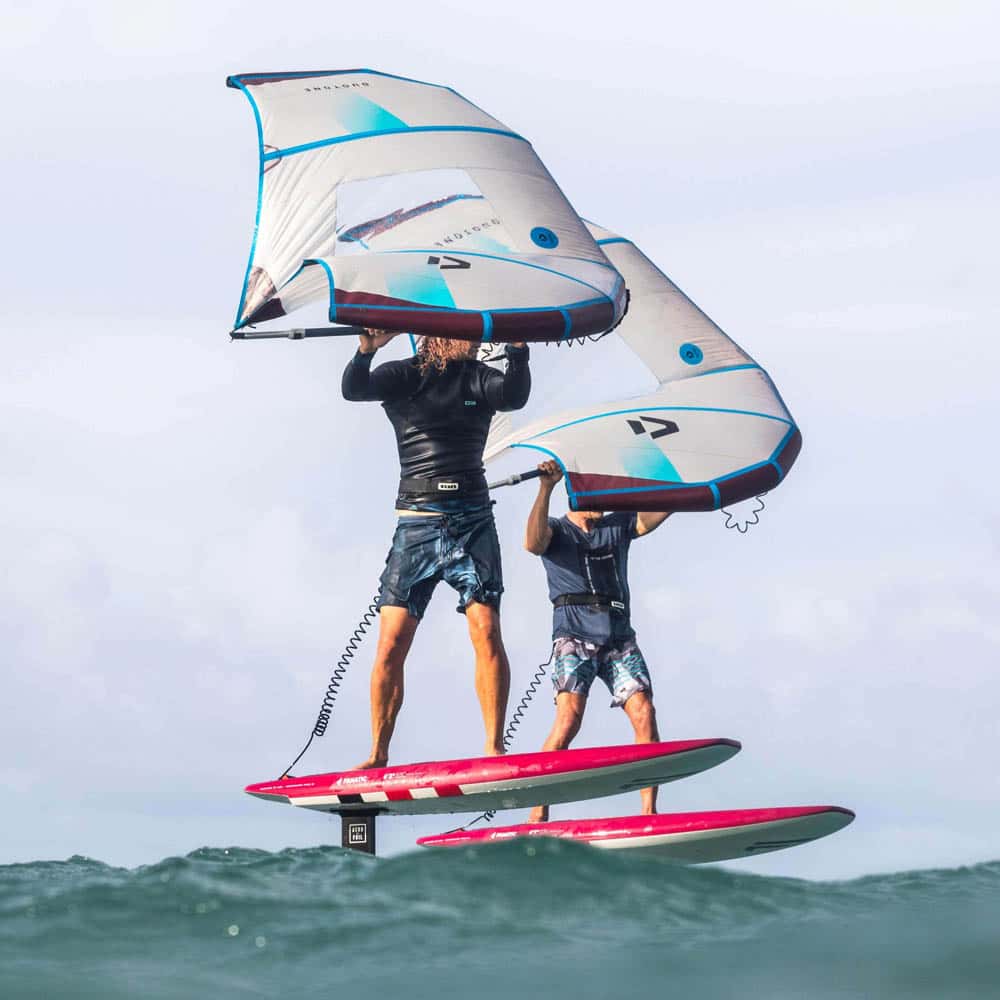 ---
Interview with Ken Winner - Designer!
Ken, how did the idea for the Foil Wing come about?
I experimented with some inflatable wing ideas back in 2011 for use with SUPs. At that stage, we felt that it was an interesting idea but it didn't excite us enough to push further, so we shelved the project. A few years later, Ralf Grösel took on the idea to design an inflatable sail for windsurfing that became the successful product you know as the IRig. During the summer time here in Maui, we do a lot of downwind paddle foiling and I go regularly with my neighbour who's a bit of an extreme waterman. A couple of years back, after a summer of non-stop SUP down winders, I became curious to see how else I could enjoy the wind swells, increase my time on the water and add some diversity to my sessions. It was also at this time that I I saw Flash Austin out on the water with a simple Wing he had made in his garage from fibre glass spars and canopy material. It got me thinking, I bet I can make something like that, but as an inflatable Wing. That's where the design process began.Over the course of a couple of years and after more than different 20 prototypes, here we are, ready to introduce the Foil Wing to the world!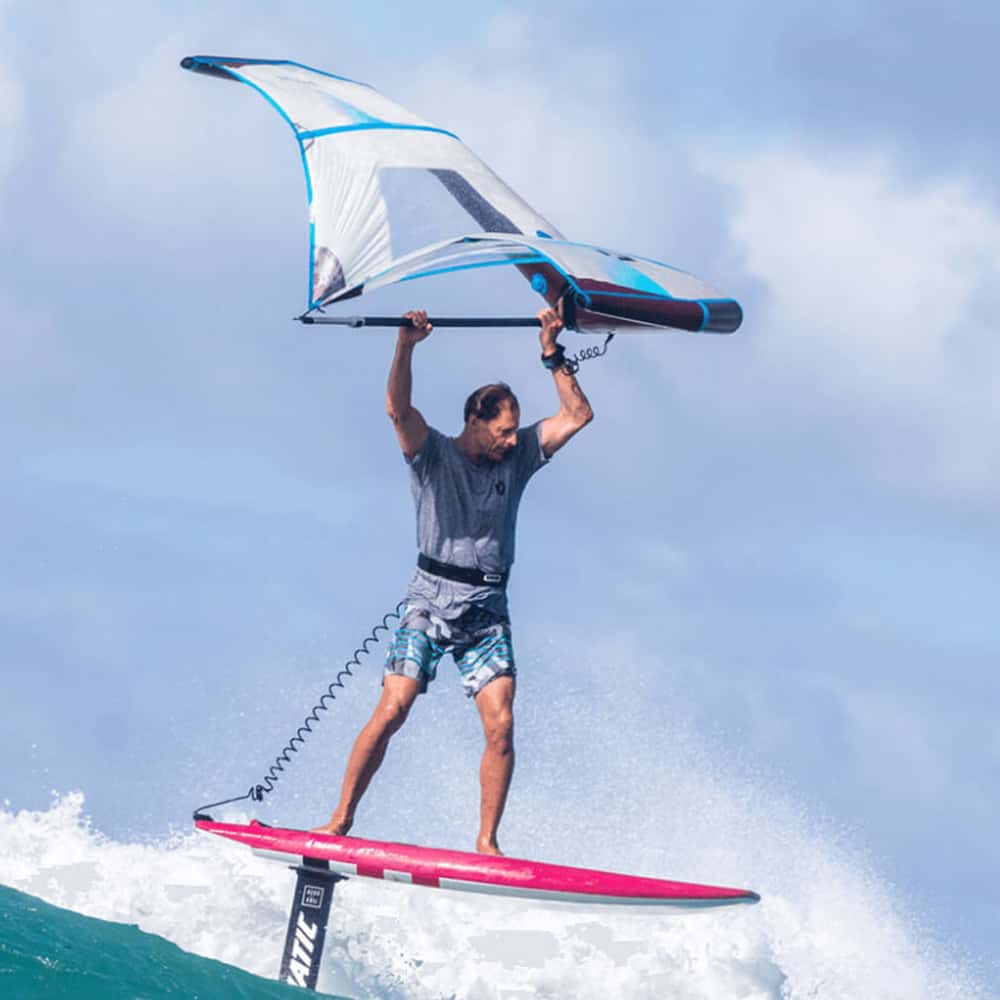 So the Foil Wing was a project that came from prototyping a concept?
Yes, one of the greatest aspects I've always enjoyed with the team at B&M / Duotone, is the freedom they allow their design team to pursue new avenues and ideas, even if they may seem a little outside the box! In trying new concepts,sometime, things don't plan out or work as you might have envisioned, but it's rarely a wasted exercise.Lessons can always be learned from the process and elements applied to future projects. The Foil Wing was not a pre-planned project or something we set out to produce and bring to market. It came after I had made a few prototypes. I then got Sky and a few others on them to try and from there we continued to develop the Foil Wing as we started to realise we were onto something exciting.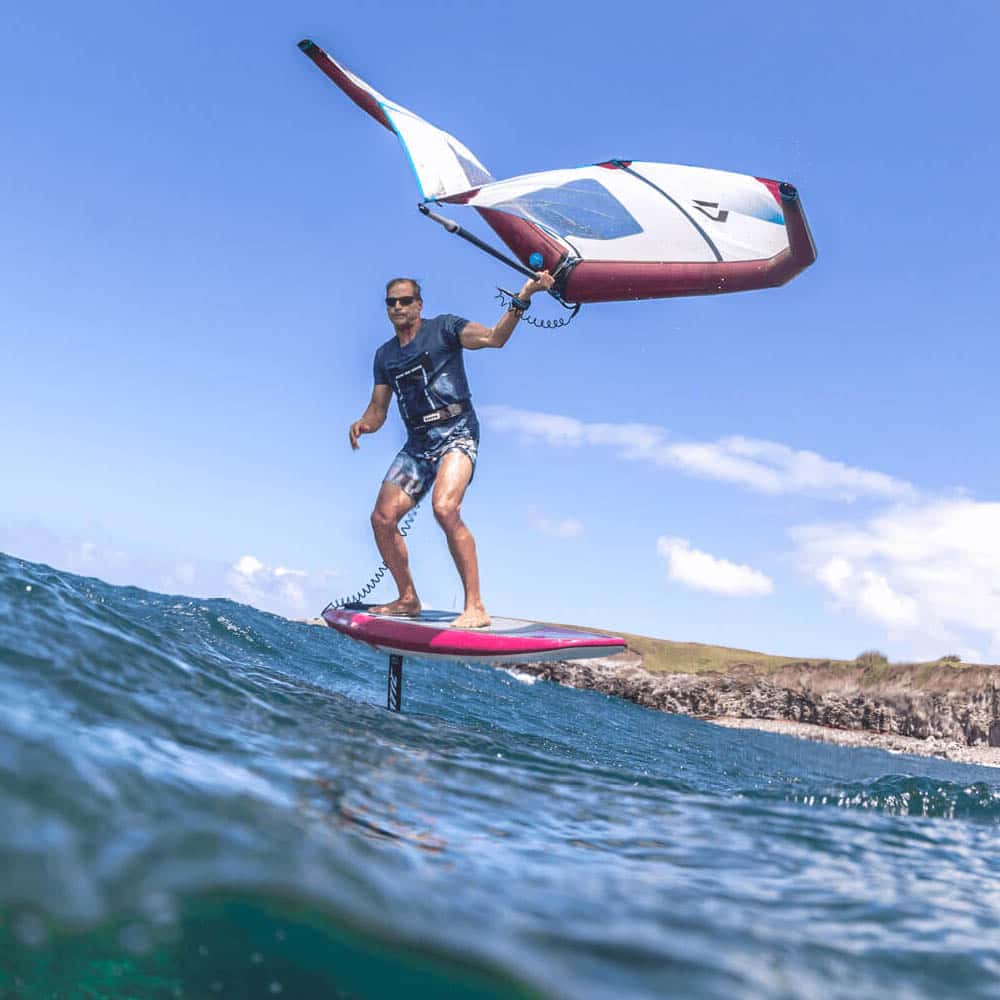 How was the development process and what design iterations did you go through? At what stage did you bring in the boom and battens and did you try inflatable Struts?
We went through many prototypes of the Wing.The first one had inflatable Struts and sewn on grab handles.However, we quickly moved on from this. I was reluctant to bring the battens into the design as I thought it would create too much weight, but as soon as we tried it, the gains in performance were clear. The boom is also something that really sets our Wing apart from other brands. The ability to place your hand wherever you need, enables you to fine-tune the angle of the Wing. With the boom, you can roll your wrists to control the pitch of the Wing.
Does it get tiring holding onto the Foil Wing without a harness?
That's a common question and it's not as tiring as you might think. We've been using the Foil Wing with our Fanatic Foil SUP boards, so actually the power you need once you are up and foiling is very little. When you get on a swell, you can simple release your back hand and the Foil Wing is fully supported by the wind. We regularly ride two to three hour sessions, upwind, downwind and wave riding without any problems. My wife also rides and there is an 8 year old kid in the neighbourhood that is progressing quickly too. That is one of the great benefits of the Foil Wing, it's actually a faster, less tiring process to learn to foil on a SUP with the Foil Wing than it is using a paddle.
Let's talk a little bit about that.What's the learning curve like and how are the riding characteristics?
Learning on the Foil Wing is quick. People with a background in kiting and especially windsurfing, can pick it up rapidly. As I said, it's actually easier to foil SUP with the Foil Wing than learning with a paddle. Holding and manoeuvring the Foil Wing is easy and very intuitive. What stands out to me is that it's so easy to put it exactly where you need.For example; if you are riding a wave or a downwind swell, there would be a time when you are carving the board from one edge to the other. If you were on a windsurfer you would need to jibe, or if you were kiting, you would need to move your kite to the other side. With the Foil Wing there's a lot less to think about and it allows you to follow exactly the line you want to take on the swell.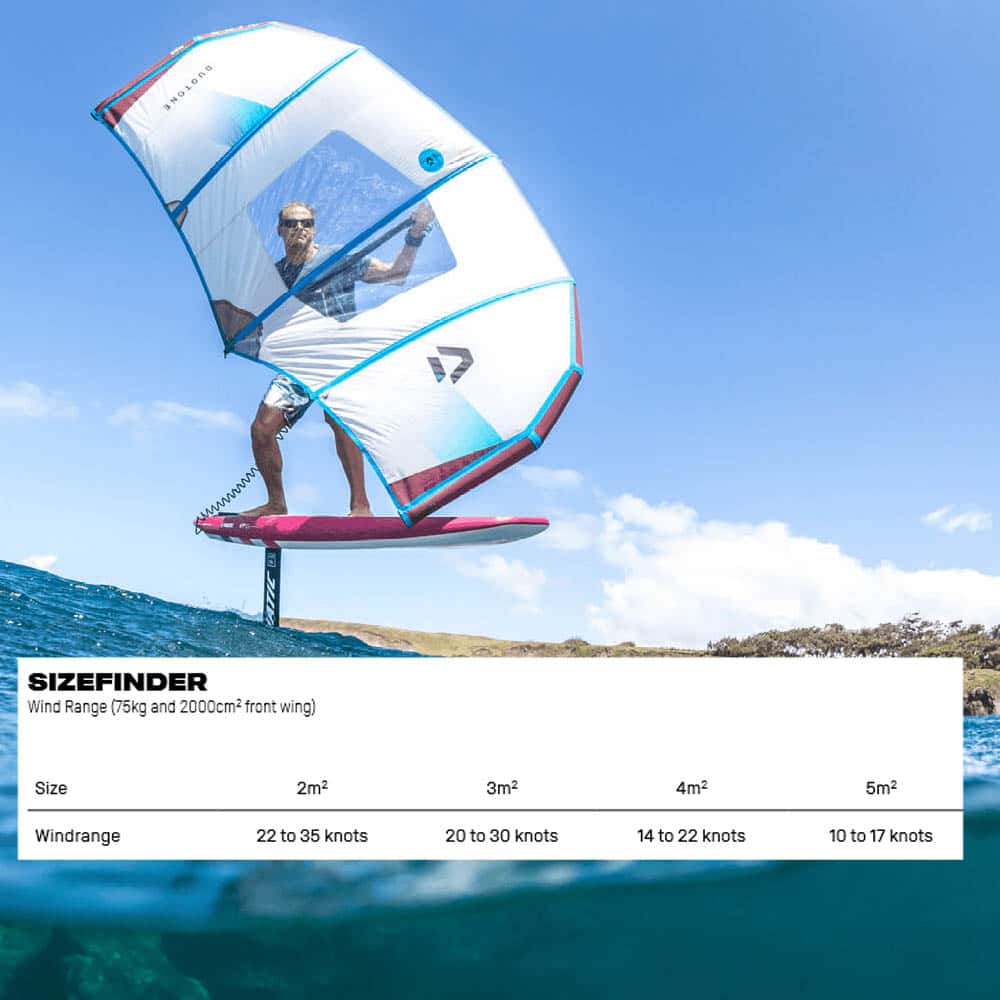 What are the wind range limits?
Initially I designed the Foil Wing to replace my paddle for downwind foil SUP where the winds are commonly around 25-35 knots. Now, since we have started to explore new territories with the Foil Wing, we have been successfully getting out in winds as low as 8 knots on flat water with minimal pumping. On the other hand, it's also a breeze in over 40 knots, so it has a pretty impressive range.
How good are the upwind capabilities of the Wing Foil?
The answer is, very good! We've worked a long time through many prototypes and that's been an important area of focus. From its Dihedral design to tweaking the Leech design and Leading Edge, it has similar upwind performance to that of a kiteboard or windsurfer.My regular session, is heading out from my local beach and going upwind to a wave spot about a mile up the coast. With how capable the Foil wing is, I think we'll see it open up some fun alternatives for people using them on all kinds of waters; from oceans to lakes all over the globe.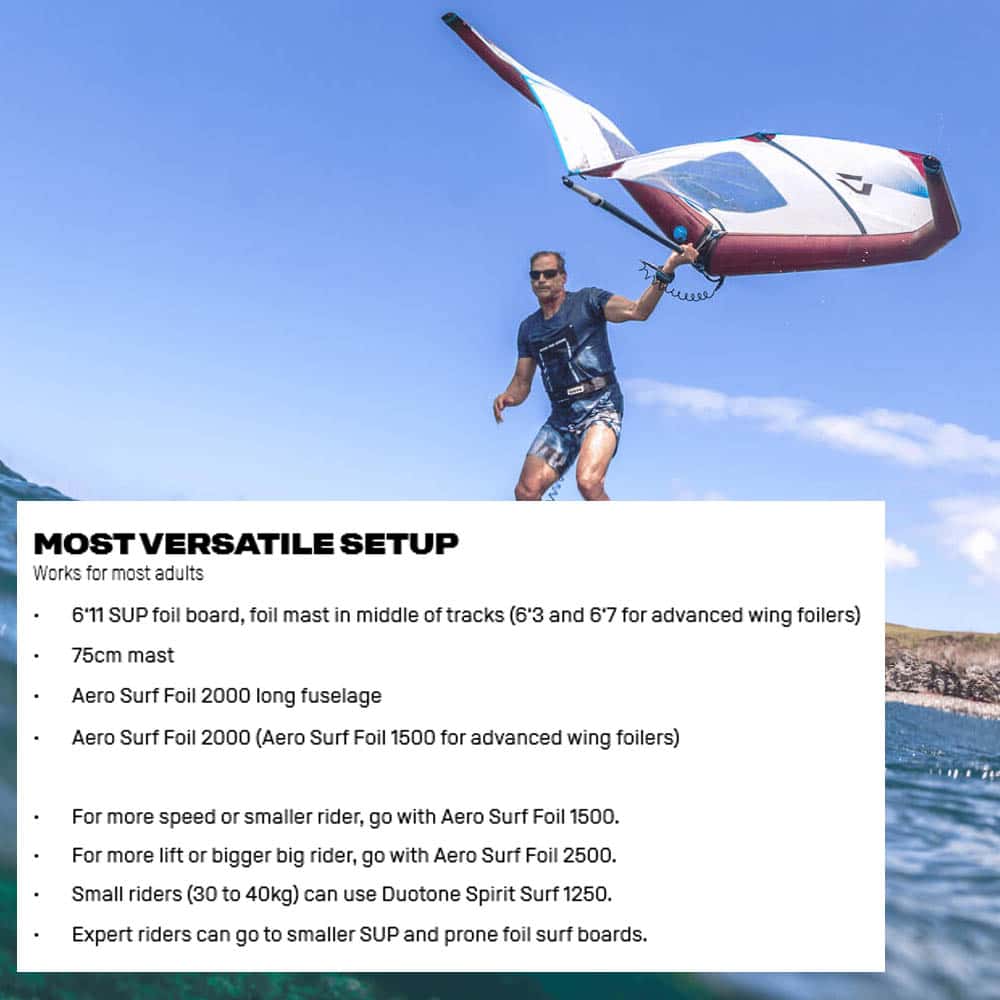 Who does the Foil Wing appeal too and how does is compare to kitesurfing or windsurfing?
The Foil Wing would be perfect for someone who already owns a SUP foil because it allows you to get much more use out the board you already own.Now, you aren't just waiting for 30 knots and wind swell, you can get out in 10 to 15 knots at your spot and really get that feeling of surfing, even on flat water. The sensation is different to both kiting and windsurfing and each sport has its merits. The Foil Wing is a great option for people who are looking for something a little more accessible and with low impact. It's quick to learn and the Foil Wing feels like an extension of your body, as well as acting as a kind of balancing stabiliser when learning to foil SUP. My favourite part is the wave riding. It's that weightless, exhilarating feeling you get when dropping down the face of a big wave, whether you're surfing, kiting or windsurfing. With the Foil Wing you get this same feeling, but on a wave a quarter of the size and on the shoulder of the wave that's not even breaking. Not needing to be on the critical section of the wave means you are hunting swell that no one else is looking at, meaning you can take any wave you want. That and the fact your speed over the water is generally around 10 mph, a crash feels no different from jumping in the water, there are almost no consequences!
More info here... https://www.h2o-sports.co.uk/products/44200-3515/duotone-foil-wing-2019