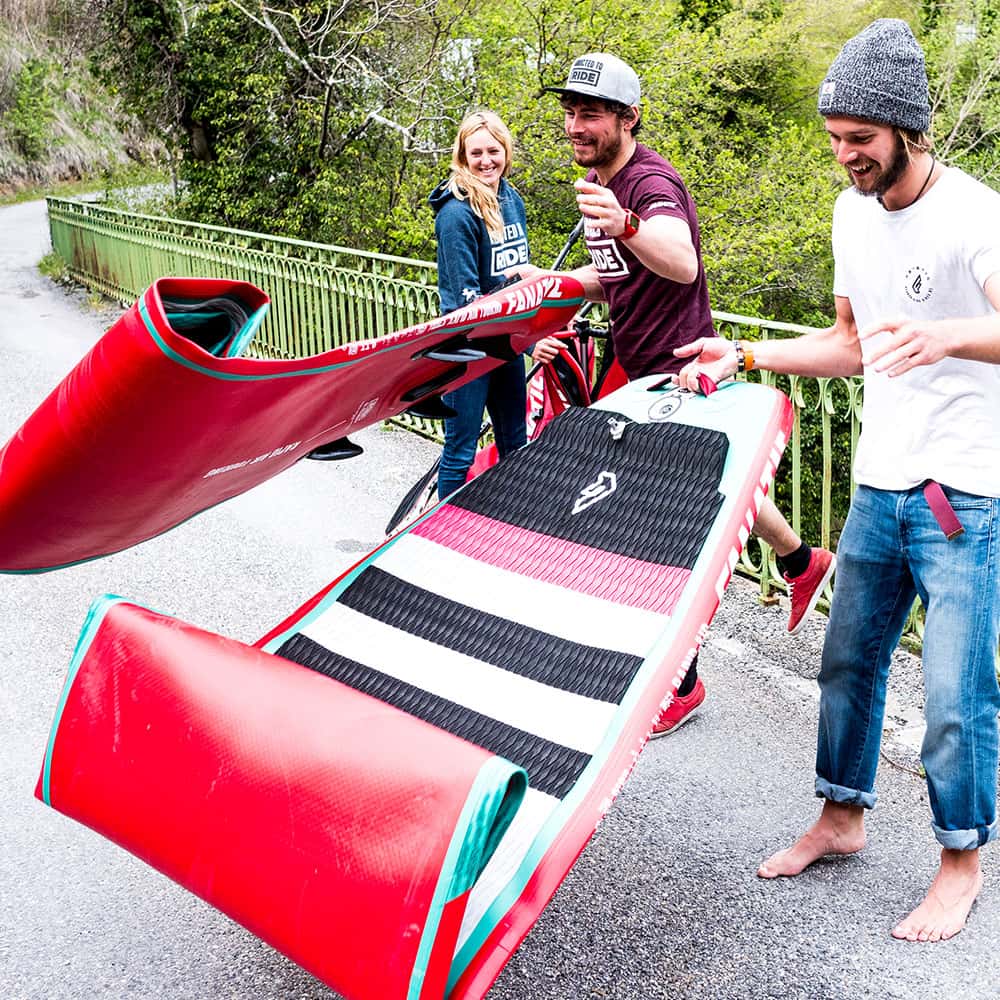 ---
Paddle Boards… Inflatable or Rigid?
Paddle Boards… Inflatable or Rigid?
The short version
Get an inflatable SUP… More often than not – it's the right answer. Hence the inflatable models are taking over the market as the accessibility of the Watersports bike suits most needs over the rigid models… Customers looking for ultimate performance in the waves or for racing would naturally look towards the rigid models.. But even in the racing on flat, calm days our inflatable riders are taking the podium spots… But not in the choppy, breezy races! For example one of our leading brands Red Paddle Co offer performance and serious race winning inflatable paddle boards like the Elite series with ground breaking features to ensure ultimate performance in racing like their patented RSS batten system! So there is now even more reason to choose Inflatable than there was before!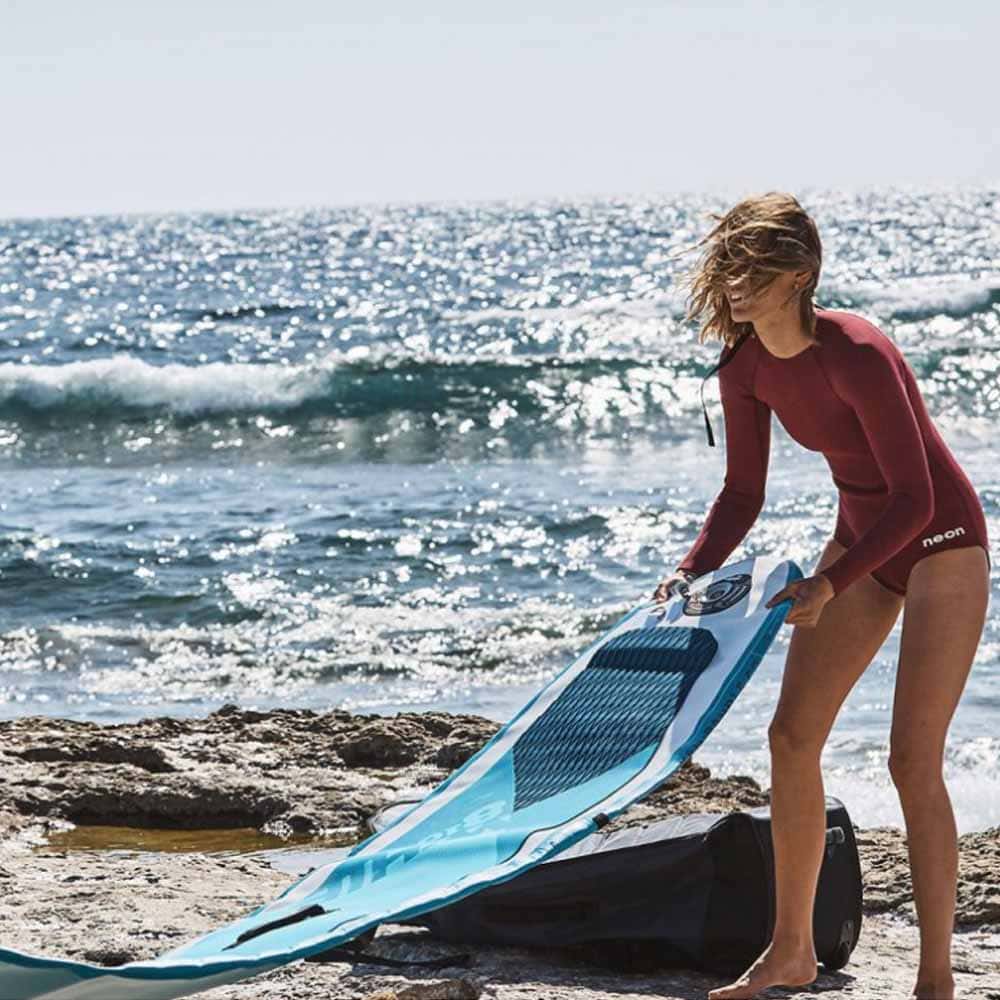 The long version…….
Inflatable stand up paddle boards (iSUPs) outsell their rigid cousins by at least ten to one, but which is right for you? In other words, are the advantages of iSUPs overblown, or should you stick rigidly to a fibreglass SUP? Ha!
As well as our excellent website H2O Sports have always been and always will be a bricks and mortar shop too, run by some of the most experienced water sports experts ANYWHERE. Nothing beats checking out the kit for yourself and it also we can check you out too…!
Your size, weight, experience, aspirations
Logistic stuff like budget, ways to pay, storage issues
Choosing the right paddle and other accessories
We have a huge selection of rigid boards and iSUPs from the world's leading brands including Red Paddle Co, Fanatic, JP, O'Shea, RRD and Aloha to name a few! Please note - all our iSUPs are top quality from established manufacturers that have a pedigree in the water sports industry. There is some cheap 'stuff' out there that may be OK as a beach toy but little else. Our brands will perform better, last longer, look better and hold their value. And of course the back-up is there from us at H2O Sports. For most the benefits of an iSUP outweigh the slight performance advantages of a rigid board. Come and look, touch, pick up and smell (if you like..) a modern iSUP and you'll see what we mean. It's fun in a bag!
We've produced a list of pros and cons to help you to the right decision: But we're open seven days a week so please do call to chat through anything 01202 733744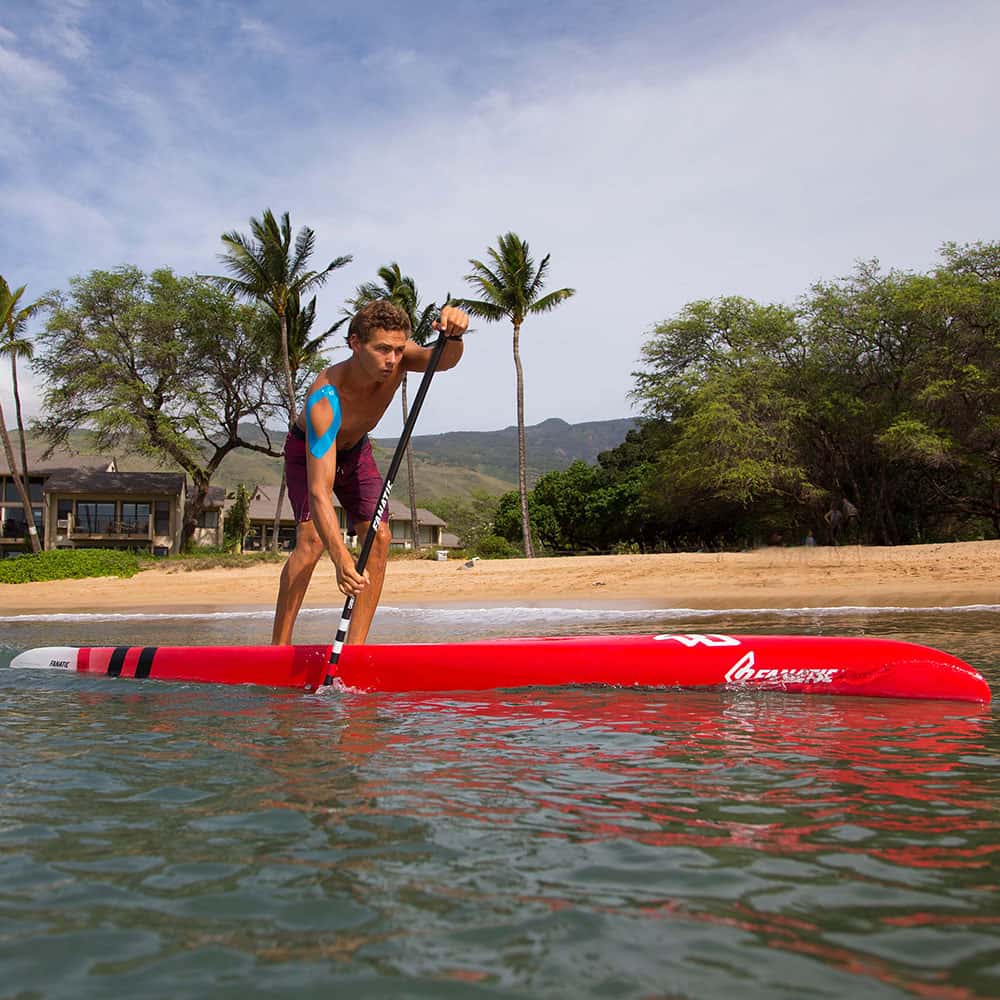 Rigid Paddle Boards
The real benefit of rigid SUPs is performance. Rigid boards outperform ISUP boards – fact! But most of us won't really need this extra bit of performance or benefit from it unless we're hard-core racers or searching for the biggest waves around! Ultimately the 3-D shape (rocker, outline and rail shape) of rigid SUP can be defined more precisely than in an iSUP. This translates to better glide on the race course or gripper carves on the wave-face. But the differences are small, and as iSUPs evolve, getting smaller. Ask us about these technicalities if you want to talk like a dude! Lets not forget the foil side of things too... If your wanting to Foil on your paddle board, then you'll need a rigid board... The ISUP's have currently put foil development on hold until many issues of feeling, control can be over come.
Negatives of rigid SUPs are size and transportation issues, it's a roof rack or a long wheel base van. Storage at home can be an issue too– you'll need a decent shed, garage or garden. Travel abroad is near on impossible and very expensive… And leads us on to the next issue, durability The rigid boards are more prone to damage during both travel and use – Hitting against other boards or rocks etc We always recommend either a paddle guard or rail tape on your rigid SUP to protect the sides from continual paddle scraping! Price – always more expensive than iSUPs especially in the more exotic construction (carbon)
Inflatable Paddle Boards
Pack-up into an oversized ruck sack – perfect for storage, transportation, and travelling with! Be it on a car boot, bus or the train, even an plane. Inflate in minutes and you're ready to go exploring! Perfect for stowing on a boat as well! Weight – lighter than all of the rigid board constructions (except the elite carbon models) so easier for the ladies, kids to handle. On and off the water. Durability –way better than the rigid boards! From the thousands we've sold here at H20 Sports – returns on the iSUPs is less than 0.25% through damage where it's a lot higher on rigid board – from being dropped off car roofs, dented, cracked on rocks etc! This also helps with bump and bruises as the boards are slightly softer and more forgiving to the body.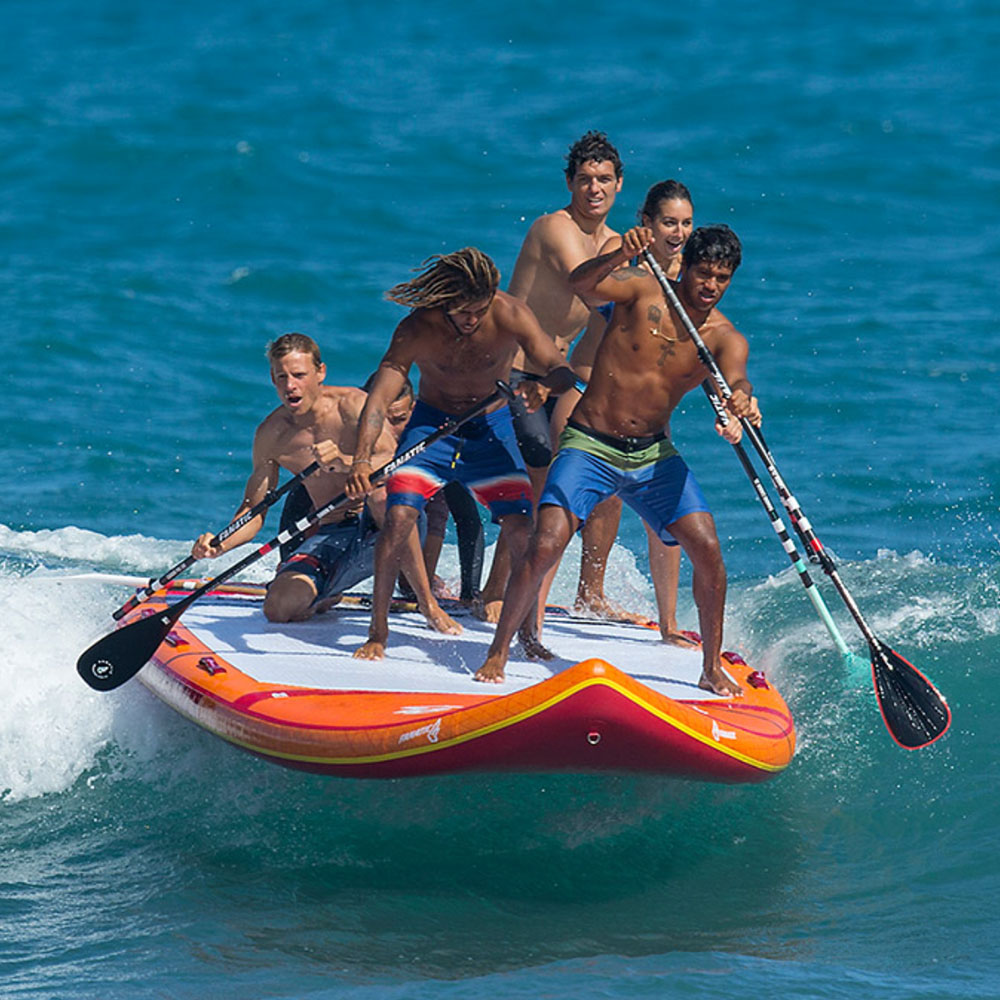 Many Inflatable Paddle Boards come windsurf-ready too! So you really can have 100% fun for the whole family! Windsurf, Surf or paddle your Inflatable Fanatic paddle board – like the Fanatic Premium Air models! All members of the family can enjoy the Did you know that there are now completely inflatable windsurfing rigs too? Perfect partner to your new iSUP . Even more fun in a bag! Take a peek here Also, the inflatable paddle board designs give you the huge mega paddle boards for 6-8 riders at the same time!
Negatives of the Inflatable Paddle Boards
They are more affected by the wind as they sit on top of the water – rather than in it with ballast like a hard board –but like us you'll quickly come to realise that paddle boarding isn't much fun in the wind be it on a rigid or inflatable paddle board! If it's windy try the windsurfing options. While there are iSUP designs that can surfed and raced to quite a high level, the construction limits the 3-D shape for ultimate performance. There are iSUP categories in some races and the best of the iSUP racers are fully competitive with their rigid counterparts. And down on the beaches you'll see plenty of riders having a blast in the waves using the more wave specific iSUPs like the Fanatic Stubby and the Red Paddle Co Whip. The iSUPs that we sell are strong and durable, but care should be taken around sharp objects on and off the water. Of course iSUPs need to be inflated initially, but many owners will leave them inflatable between sessions to save time and effort. Perhaps you now understand why we're selling so many iSUPs, they really can do anything! From beginner to racer, for yoga to surfing there is an iSUP for you.
Why are some SUPS more expensive than others? So once you've decided on your type of board – you'll notice a large range of prices!
With rigid boards, you're paying for the materials in the board… Cheaper pop out boards like the Bic models are strong but super heavy great for keeping in a beach hut and fun for the family. More bucks gets you lighter, stiffer and more performance, if you need it, or want it!
With Inflatable boards typically again like the rigid models – it's down to the construction. Although iSUPs all look similar there are hidden differences that make a big difference. Premium brands use stretch-resistant drop-stitch technology, resulting in more rigid and durable boards. Another factor is the layering of the skin, Single skin boards like the Fanatic Air range and the JP LE range are very light weight, perfect for lighter riders – Kids etc – but for most of us 80kg plus these boards do not have the rigidity with a single skin to prevent bending in the middle – making the board look like a banana – meaning they just don't work or go in a straight line!
Thus most brands now glue a second skin on to this single skin and reinforce the rails – the weakest point – meaning the board is now very stiff as they can be inflated to a higher pressure. Models like the O'Shea use these constructions and are great performance boards that don't break the bank!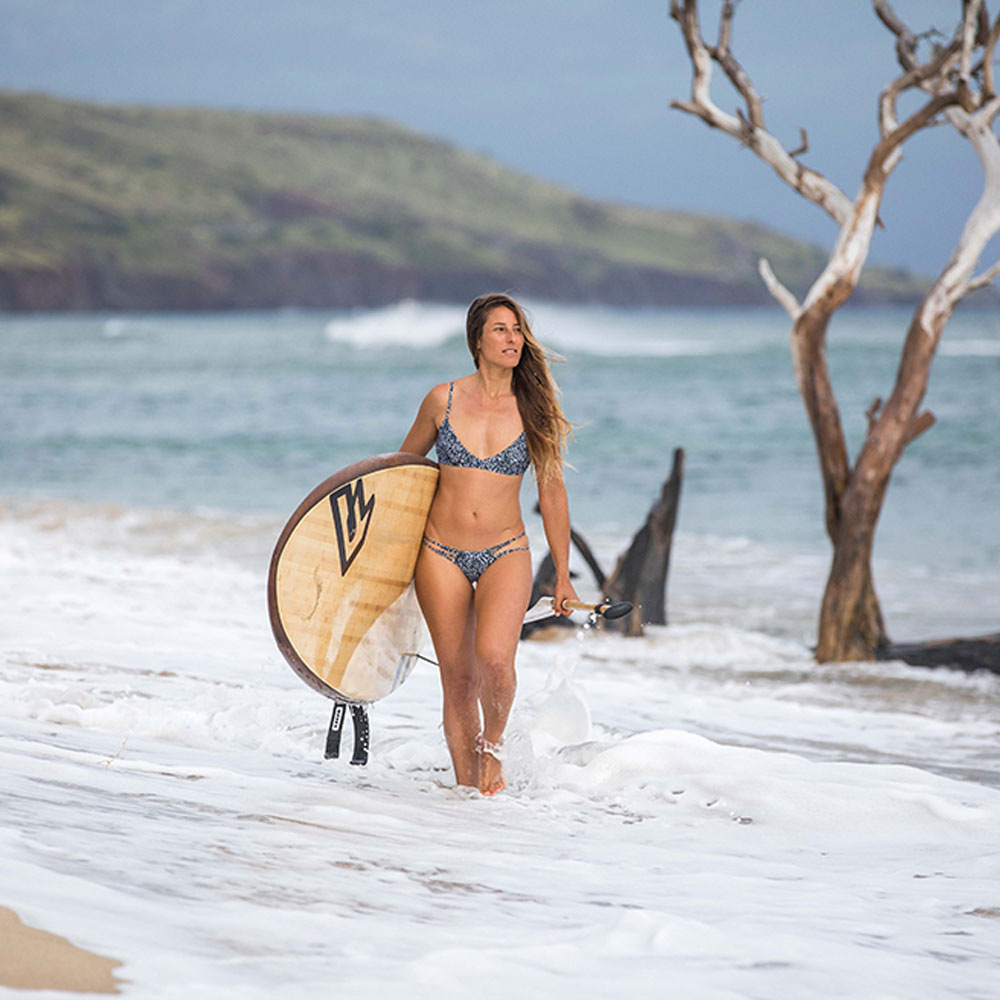 A big step up in performance comes with the premium brand's top models. Fanatic and Red paddle boards have taken the construction to a new level with durability and performance with pre-bonded light-weight laminates. With these models you'll also gain better bags – with roller wheels. The Red boards come with the ground breaking Titan pump, which cut your inflation time in half! Higher quality paddles and heavier duty leashes complete the packages. Fanatic premium iSUPs come with a performance glass fin and are all windsurfing compatible while the Red come with three indestructible moulded fins and only certain models like the WindSUP are windsurfing compatible.
Below you'll find our list of our uniquely favourite boards and the reason why...
Favourite Inflatable boards
Fanatic Premium Air. One board really can do it all. Paddle board, Surf and windsurf all in a transportable bag! The Fanatic Premium air comes as standard with a US glass performance fin, two thrusters and a M6 UJ attachment as standard for receiving a windsurfing rig. Made from the highest construction currently available... It's our go to board for the master of everything - Perfect family fun!
Red Ride Paddle Board. The original and true inflatable board brand. If it all round paddle boarding your after - The industry leading brand delivers every time! For a pure bread performance all round paddle board look no further than the Ride range from Red.
Fanatic Pure Air. This single skin price pointed inflatable board is the best thing since sliced bread if your on a budge but don't want to compromise on quality... And your on the lighter side of 90kg then the Fanatic Pure is the go to board!
Favourite Rigid Boards.
Fanatic Allwave. The go to rigid board for great wave performance but still maintaining flat water ability. For the south coast for small to medium waves and flat water fun - Look no further than the Fanatic Allwave... Its a unique board that rams ton's of volume into a small surface area making it stable for heavier riders, manoeuvrable in the waves and still glides OK on the flat water... So if your looking for a board with a bias for waves but still want flat water capabilities - the Allwave is the go to board...
JP Australia Hybrid. Combines the flat water glide of a touring board, but with a decent amount of rocker making the board track smoothly with tons of stability meaning it's a great allwater board that performs pretty well in small to medium waves... This is the opposite to the Allwave.. Where if your looking mainly for a flat water performance board that still performs in the waves (A bias to flat water) then te Hybrid is your go to board...
All models discussed here are available with free mainland UK delivery and 0% Finance at the best available on line prices! H20 Sports now offer a whopping 0% Finance over 12 months / 18 months or even 36 months for the big spends! We only work with the best known brands in the business, stocking a huge selection Have any questions while choosing which boards right for you? Or need advice on where to ride? Give us a call and we'll talk you through the all the options, let us help you choose which sup will be best for your needs.