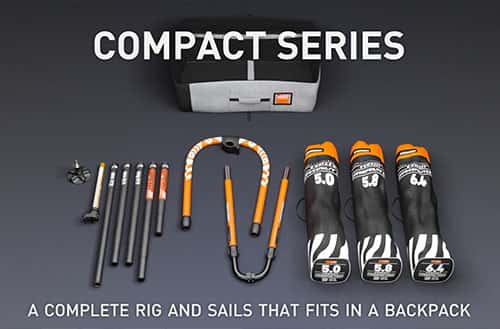 ---
WHAT IS IT?
For whatever reason, space is always critical, and that was why the Compact Series was born. In a sense it is the ultimate in simplicity. Everything you need to power your board and enjoy windsurfing, all fitting in side a back pack. The mast comes in multiple sections not only reducing the size, but also allowing different lengths for different sizes of sail. The boom neatly splits in 2 for transportation and included in the back pack is the extension.
Whether you need more space in the car, more space in the house or if you like to travel a lot, the Compact Series is the perfect partner. Incredible convenience, with no performance compromises.
TECHNOLOGY
The sails are carefully designed to fold in half for ultra portability (A). Our unique batten system allows quick release of the tension (B) and a split in the centre allows for easy folding (C). A Dacron strip running now the middle of the sail gives a heavy duty folding section (D), allowing the sail to fold and roll and pack up half the size (E). Each backpack can fit up to 3 sails inside.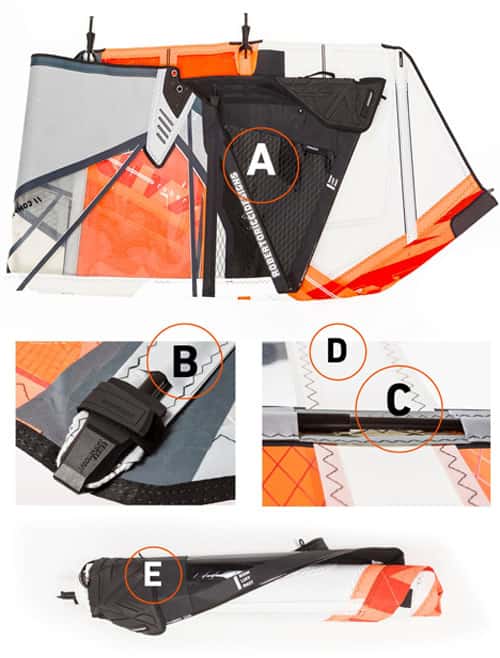 HOW DOES IT WORK?
1-choose your sail style
Compact Vogue – Wave sailing and high winds. Sizes from 5.3-3.5
Compact Freefoil – Foiling in all winds. Sizes from 6.4-4.0
Compact Fire – Performance freeriding. Sizes from 6.8-5.0
Compact X-TRA – Easy freeriding . Sizes from 7.0 to 5.0
Compact Grom – Performance youth. Sizes from 4.4-2.6
2-Choose your rig pack
Compact Wave Rig Pack – for Compact Vogue
Compact Freeride Rig Pack – for Compact Freefoil, Compact Fire and Compact X-TRA.
Compact Grom Rig Pack – for Compact Grom.
Both the Compact Wave and Compact Freeride Rig Packs are available in 2 technologies.
HD – features C80 mast and Alloy boom and extension.
PRO – features C100 mast, full carbon boom and full carbon extension. The bag also includes wheels for easier transportation.
All RRD Rig Packs are fully compatible with all previous and all future Compact Series sails.
3-Choose your sail sizes to fit your needs
Each back pack can fit 3 sails inside so you can choose the sizes that fit you. For example a wave quiver for the heavier rider could be 5.3/4.6/4.0. A freeride quiver for the lighter rider could be 6.8/5.7/5.0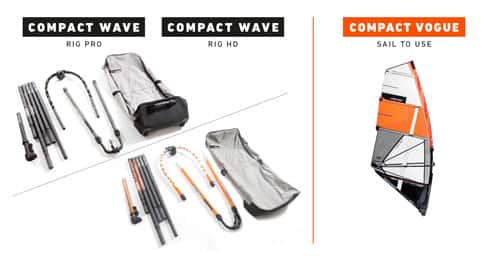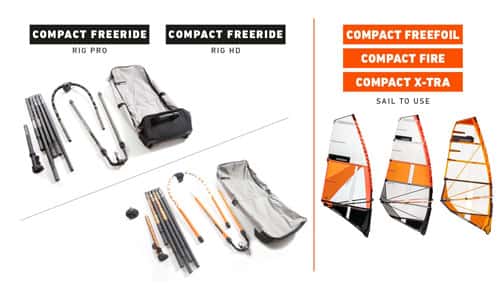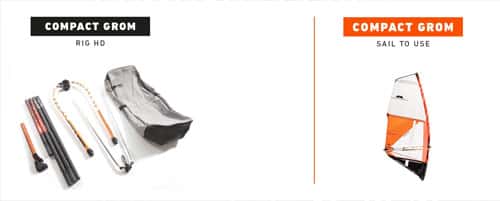 The awesome RRD Compact Series is a complete rig and sails that fits in a backpack and is available from H2O Sports with 0% Finance Options & FREE Delivery. Click Here To Buy >