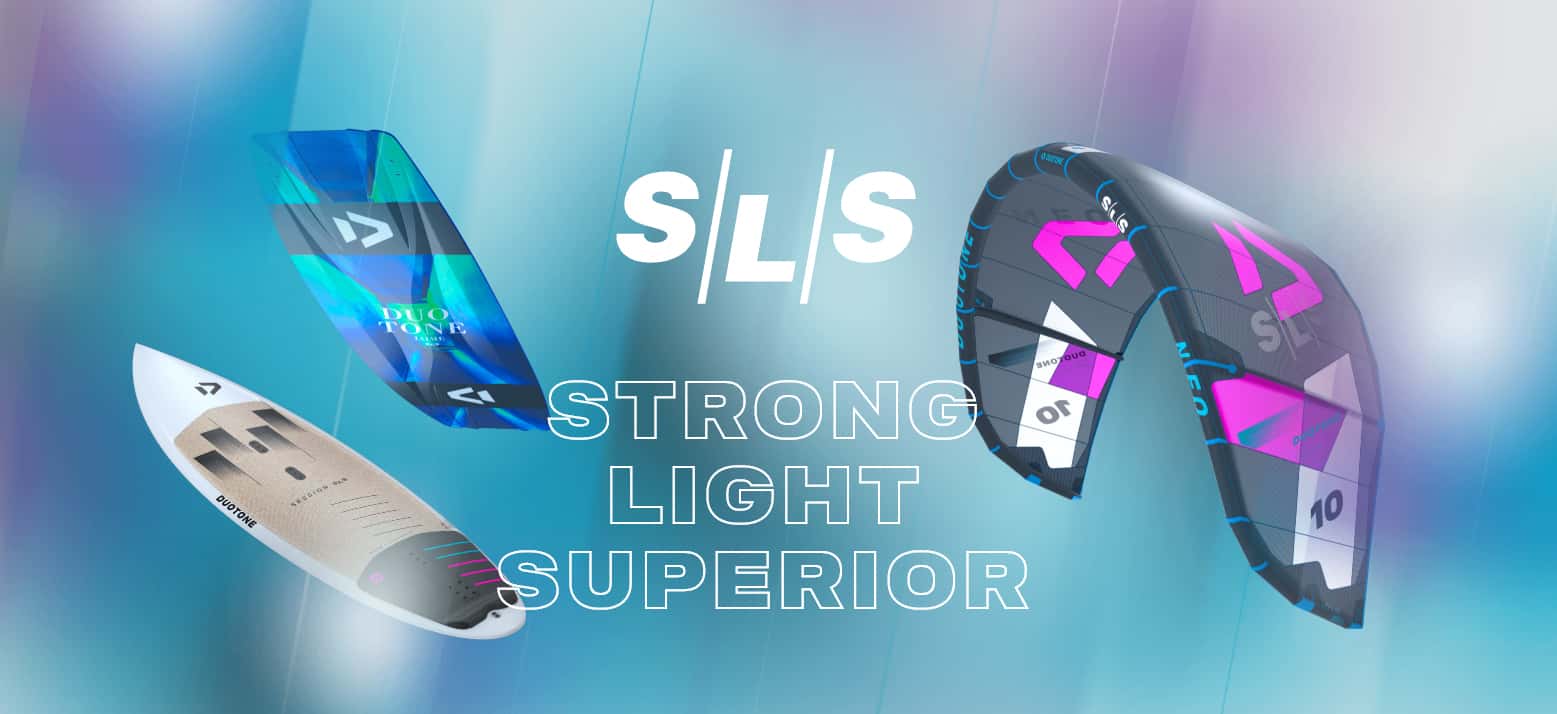 ---
THIS SEASON WE'RE TAKING OUR INNOVATIVE DRIVE TO HIGHER GROUNDS; WE PROUDLY INTRODUCE SLS - STRONG LIGHT SUPERIOR.
Since 2001, we have made it our mission to make the best kiteboarding equipment to guarantee that every single one of your sessions is the best. We created many groundbreaking innovations like the Click Bar, Textreme Technologies and Trinity TX. Now it's the time for SLS. Whenever you see the SLS logo on a product, you'll know, we put it there for a reason. SLS products are equipped with the newest, most innovative and simply best materials available for kiteboarding. This is the gear we want to ride, tuned to the millimeter over countless hours. Just so that we are 100 % satisfied, to know that we're offering the greatest experience you could ever have with your gear. This is our magic collection which makes us smile just thinking about it and leaves butterflies in our stomachs, even after we've packed up and headed home for the day.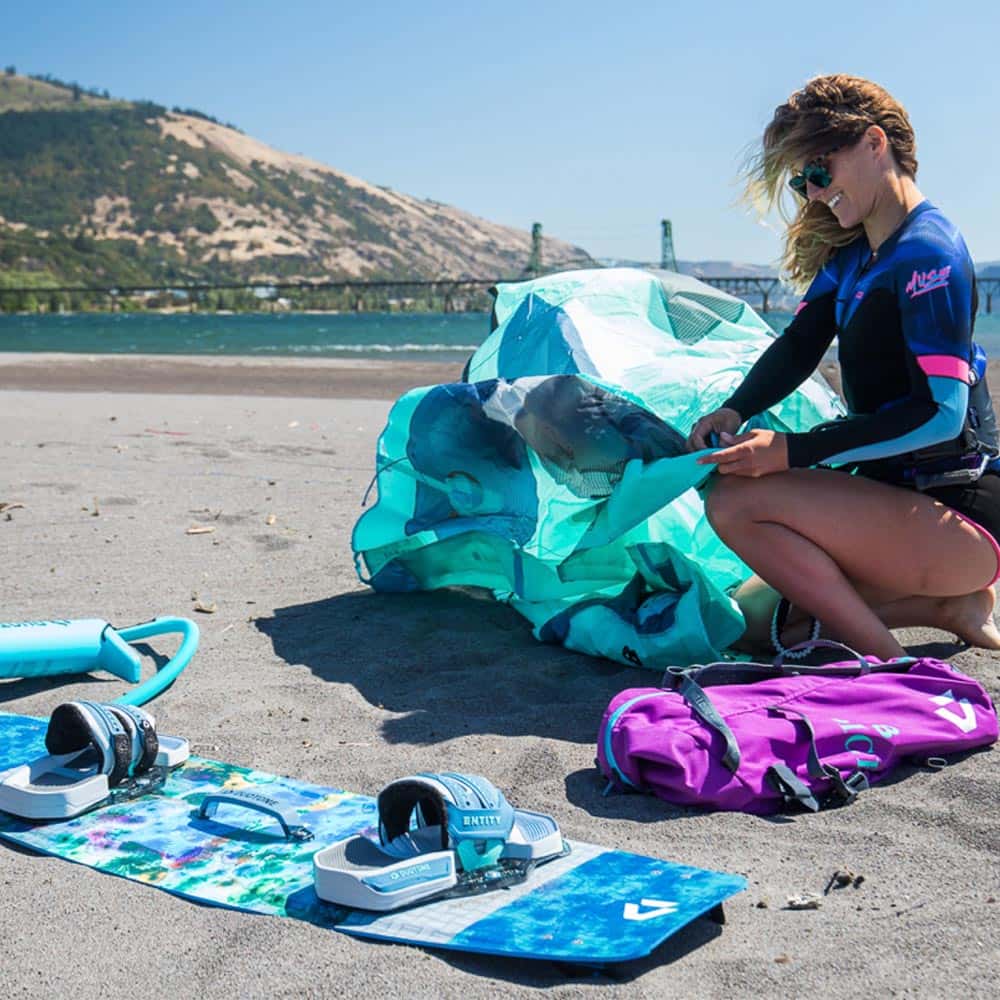 THIS IS DUOTONE
We are Ken, Kite Designer. We are Elsa, Product Manager. We are Patrick, Marketing Manager. We are the designer agonizing over the drawing table. We are the manufacturer checking specs. We are the shaper glassing into the night. We have always strived to create the best gear for the most riders. But when we're not working, we're playing. And sometimes we want to build gear just for us. When we're on the water we don't care about excel lists, market analysis, or productivity levels. On the water the only metric is performance. We want the absolute best kite gear that technology, materials, and design can produce. Bar none.
If you are like us: always pushing yourself and your gear to the edge, pushing past that point, redefining what is possible and still demanding more; more from yourself and more from your gear: If you are one of us, we have something to show you: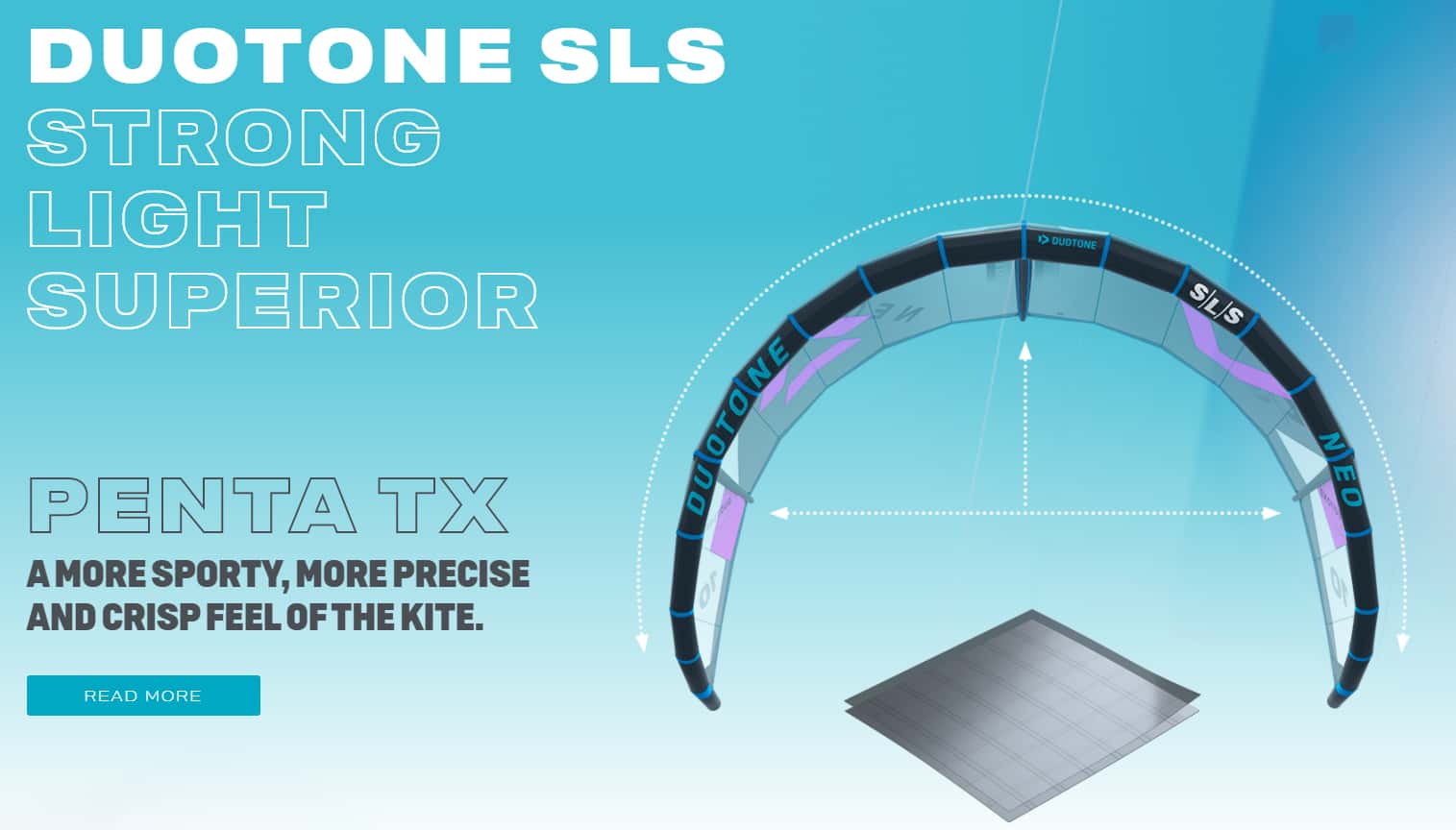 WHAT MAKES PENTA TX SO SPECIAL?
5X Times Higher Tear Resistance
50% Less Elongation
15% Lighter Overall Construction

SLS SURFBOARDS
THE RESPONSIVE FEEL OF A CUSTOM SURFBOARD COMBINED WITH LIVELINESS, DURABILITY AND DENT RESISTANCE.
Weight reduced by replacing fiberglass with Innegra
New innovative Innegra Shield, making SLS boards strong and resistant against dings and heel dents
Comfortable ride even in the choppiest conditions
BY SKY SOLBACH
We're constantly looking for ways to improve our surfboard construction and in our product descriptions we often talk about the challenges involved in finding a good balance between lightweight, durability and feel/flex and how it's easy to make a board strong and stiff or light and fragile. We've been quite happy with the way our Light Team Construction has performed over time, utilizing the cork shock absorber as a damper, and we've honestly struggled with several attempts behind the scenes to make any substantial improvements when experimenting with alternative damping materials as they simply could not match the innate technical qualities of cork. These experiences led us to start looking into alternative materials to replace or compliment the fiberglass laminate itself. Since we have quite some years of experience now using Innegra as a damper to tone down the rapid reflex of our carbon twin tips, we figured we'd give it a try on our surfboards as well. Throughout the process of development of several dozen prototypes, we learned about the many benefits of using Innegra cloth to replace some layers of fiberglass. Firstly, it's stronger by weight than fiberglass, resulting in a significant weight reduction. Additionally, it serves as a damper to give the boards a more forgiving feel, which is especially noticeable in the harsh, choppy conditions we often have in kitesurfing. Finally, because the material itself is less brittle than fiberglass, the boards are more durable, especially from impacts that might crack and splinter a fiberglass laminate. The Innegra simply flexes and absorbs the shock, which makes the boards much less prone to dings and cracks – And that's why we call it the "Innegra Shield", because it really does shield the board from a lot of damage you would normally get on a typical board. So, basically, we have managed to make the boards a bit lighter, more durable AND have a better feel and flex which really ticks all the boxes in our criteria for a high performance kite surfboard that will stand up to the rigors of every day kitesurfing.